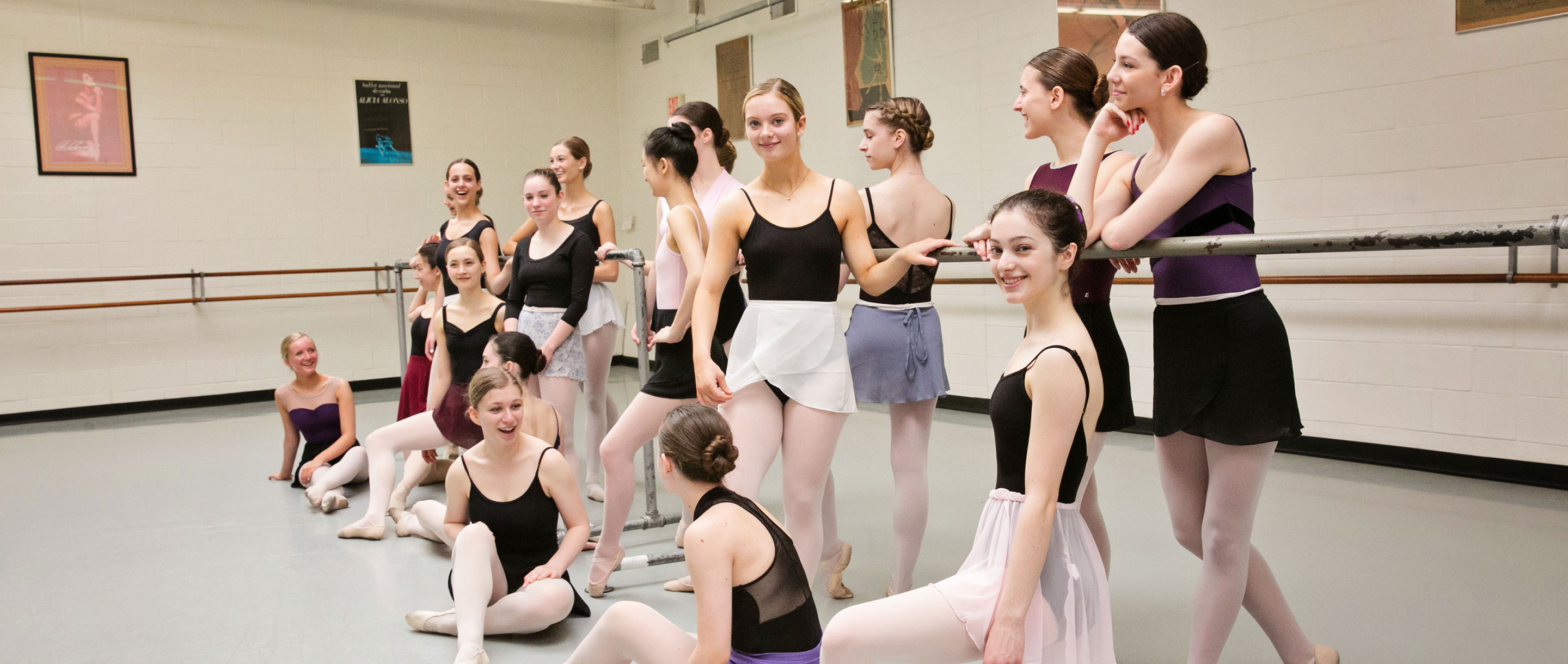 Fall Session
The regular Leveled student program, Pre-Ballet, Adult, and Pre-Professional training programs comprise our 36-week academic year session beginning in September and ending in June.
PAB offers multiple classes per week for our Leveled students from Level 1 through Level 6. Levels are determined by age and experience. Our Pre-Ballet Division is designed to foster a love of dance and lay the foundations of ballet technique in our youngest students. The Adult Division offers a range of classes for motivated adults to begin and continue their ballet education with rigor, precision, and joy. Our Pre-Professional program provides the serious ballet student a path to a career in ballet with personalized training, additional classes, performance opportunities, and audition assistance when the time comes.
Download the 2023-2024 Academic Year Schedule (includes a printable registration form)
Summer Session
During the summer months we offer a variety of Intensives, Camps and Workshops for all ages and levels of dancers.
Intensives
PAB's Classical Ballet Summer Intensives may vary slightly from year to year, but always include a curated blend of classes designed to create a well-rounded ballet dancer, including Classical Ballet Technique, Pointe work, Variations, and Partnering, as well as other genres of dance such as Modern, Jazz, and Contemporary. We also incorporate conditioning and cross-training classes such as Progressing Ballet Technique, Ballet Floorwork, and Gyrokinesis® to enhance dancers' strength and flexibility. Acting, Historical Dance, and Character Dance classes are a part of our summer curriculum, as well, to foster stage presence, a love of performance, and an understanding of the origins of dance in our students.
Adult Summer Session
PAB offers a full schedule of classes for our Adult students during the entirety of our Summer Session, from Beginner classes through Intermediate/Advanced classes designed for the adult dancer. Our Adult classes follow the Vaganova teaching method which focuses on the building blocks of ballet: proper body position, musicality, artistry, and control.
View the Current Class Schedule
Camps
Adventures in Dance This innovative program for dancers ages 4.5-8 includes a daily dance lesson and an introduction to some of the most famous ballets, such as Sleeping Beauty, Swan Lake and Coppelia. Dancers will have the opportunity to act out the stories themselves. In addition, there will be ballet-related crafts that round out this fun-filled dance experience.
Workshops
Margarita de Saá Choreography Workshop Provides advanced students the experience of working with seasoned choreographers and dancers. This workshop is a one-of-a kind opportunity to explore new movement and immerse students in the choreographing process, bringing PAB students of yesterday to the students of today.
Open Classes
During studio breaks, we offer a reduced schedule of Open Classes. Open Classes are typically taught at an Adult Intermediate/Advanced level. Dancers do not need to be enrolled in our studio to attend Open Classes. All dancers (age 13 and up) are welcome to join us.
View the Current Class Schedule
Click here to read our COVID-19 Health and Safety Plan.