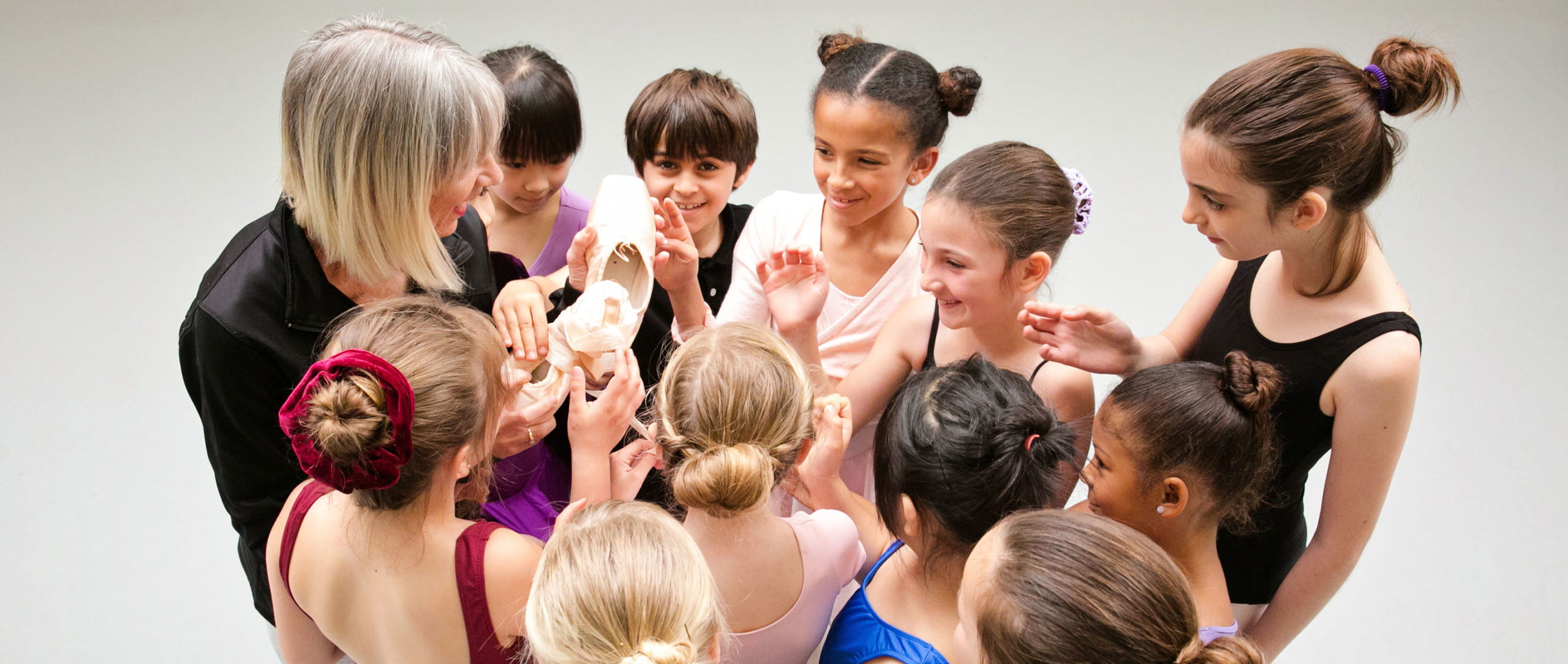 All our teachers follow the Vaganova method which is based on an eight-year teaching syllabus created by Russian ballerina Agrippina Vaganova. This method has influenced ballet pedagogy throughout the world and is regarded as a standard of ballet instruction. Since all PAB teachers work from the same method, students are ensured continuity as they progress from one level to another.
Student Program
Academic ballet lessons begin at age 8. The studio's Regular Division is comprised of 7 levels. Level determination is based on age, former ballet experience and a placement class.
Levels 1-4 emphasize the fundamentals of classical dance. Focusing on correct placement and execution of ballet steps paves the way for progressive ballet technique. Pointe work is introduced at Level 4 at the discretion of the teacher and director. By this time most students have the physical awareness and strength required for this milestone in ballet training.
Levels 5-7 challenges students with advancing technique combined with artistic demands. As students advance and grow stronger they begin to take lessons more frequently establishing a mental and physical confidence through the art of ballet. Variations and Partnering classes along with performance opportunities are introduced allowing students to grow as dancer and emerging artist.
Pre-Ballet Program
Dancer and Me (3-4 years of age and a caregiver)
This 45 minute class provides an introduction to dance and music in an enjoyable relaxed environment. This class is an excellent introduction to the world of dance and fun for both the dancer and caregiver.
Pre Ballet & Ballet Preparatory (5-7 years of age)
These classes focus on coordination, musicality and basic ballet steps fostering a love of dance and music.
Adult Program (starting at 13 years of age)
From Beginner to Advanced, this is an especially popular option for Adults and Teens who wish to learn the art of classical dance. Students enjoy challenging and progressive classes especially designed for more mature students.
Professional Training Program
Apprentice
The pre-professional Apprentice program is for the student who is ready to take the next step in their dream of becoming a professional dancer. This program is for dancers between the ages of 18-22 who have the artistic, technical and physical aptitude to become a professional ballet dancer. Participation in the Apprentice Program is by audition and invitation only.
PABS apprentices receive:
A full 36-week tuition scholarship
$100 weekly stipend
pointe/flat shoe allowance
audition guidance
Pre-professional Day Program
We offer a day program for high school students who are considering dance as a career and wish to focus more intensively on ballet than our regular schedule of after-school classes would normally allow. These students attend Cyber School and take an additional 10 to 12 hours of ballet per week, over and above their regular technique classes. They receive highly individualized training, as well as coaching for competitions, as needed.
Participation in the day program is by audition and invitation only.
Audition information
An audition class can be scheduled during the months of February-July. Call 610-664-3455 to schedule
Attend PAB's 6-week summer session. Call 610-664-3455 for information
Send by email or DVD a sample of your dancing which clearly represents your current technical, artistic and physical abilities. Should include class work and if possible performance highlights. Mail to: Penna. Academy of Ballet, 29 N. Narberth Ave., Narberth, PA 19072 Email to: info@PaAcademyofBallet.com